Graduating Students & Residents
Make sure you're prepared for any financial challenges after graduation with this helpful guide.
Graduating Students & Residents
Make sure you're prepared for any financial challenges after graduation with this helpful guide.
Information for Graduating Students
Latest News
April 2022
White House Extends Student Loan Payment Pause Through August, Pledging to Give Borrowers "Fresh Start" on Repayment
The Biden administration is once again extending the pause on federally-held student loan payments and interest accrual, this time keeping the benefit in effect through August 31. 
The announcement follows the White House's continued extension of the loan moratorium on student loan payments and interest accrual set in place at the outset of the pandemic in March 2020. 
This latest extension now marks the second time that the Department of Education (ED) has extended the freeze past what was argued to be the "final" such extension of the program. In December, the payment pause was extended through May 1, 2022. 
January 2022: FSA Updates
Biden-Harris Administration Extends Student Loan Pause Through May 1, 2022
DECEMBER 22, 2021
Contact:   Press Office, (202) 401-1576, press@ed.gov
Today, the U.S. Department of Education announced a 90-day extension of the pause on student loan repayment, interest, and collections through May 1, 2022. The extension will allow the Administration to assess the impacts of the Omicron variant on student borrowers and provide additional time for borrowers to plan for the resumption of payments and reduce the risk of delinquency and defaults after restart. The Department will continue its work to transition borrowers smoothly back into repayment, including by improving student loan servicing.
"Since Day One of this Administration, the Department has focused on supporting students and borrowers throughout the pandemic and ensuring they have the resources they need to return to repayment successfully," said U.S. Secretary of Education Miguel Cardona. "This additional extension of the repayment pause will provide critical relief to borrowers who continue to face financial hardships as a result of the pandemic, and will allow our Administration to assess the impacts of Omicron on student borrowers. As we prepare for the return to repayment in May, we will continue to provide tools and supports to borrowers so they can enter into the repayment plan that is responsive to their financial situation, such as an income-driven repayment plan. Students and borrowers will always be at the center of our work at the Department, and we are committed to not only ensuring a smooth return to repayment, but also increasing accountability and stronger customer service from our loan servicers as borrowers prepare for repayment."
FSA Announces Transfer Update on FedLoan Accounts
By Hugh T. Ferguson, NASFAA Staff Reporter
Federal Student Aid (FSA) in a recent updated notice announced that the student loan servicer MOHELA will be servicing certain types of loans previously administered by FedLoan (PHEAA), which elected to not extend its servicing contract and is currently in the process of exiting the federal student loan portfolio.
"We have also determined that MOHELA will be the future servicer for borrowers in the Public Service Loan Forgiveness (PSLF) Program" FSA wrote in an updated announcement published Dec. 22, 2021. "All borrowers enrolled in PSLF recipients will remain with FedLoan Servicing until they are transferred to MOHELA later in 2022."
FSA also indicated that it would provide updates to this webpage in order to inform borrowers of impending details concerning loan transfers.
With the federal student loan payment pause now extended through May, the Department of Education (ED) has additional time to sort through administrative hurdles that could make resuming student loan repayment a bumpy process.
December 2021: Department of Education: Information about Loan Repayment
Please review the guidance that the Department of Education has provided in these two documents about preparing for loan repayment.
FSA POWERPOINT PRESENTATION DEC 2021
FSA FACT SHEET PAYMENT RESTART DEC 2021
COVID-19 Emergency Relief and Federal Student Aid
Preparing for Repayment to Resume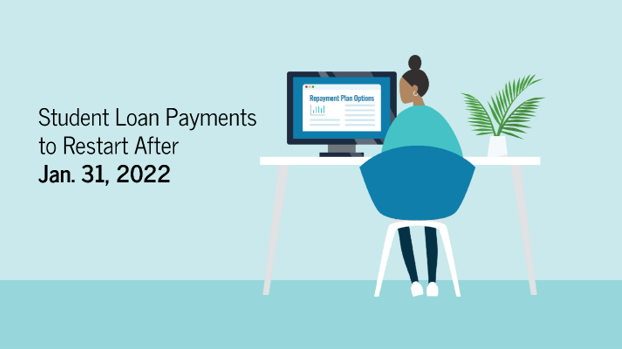 Here are three steps to make sure you're prepared for student loan payments to resume:
Update your contact information in your profile on your loan servicer's website and in your StudentAid.gov profile.
Check out Loan Simulator to find a repayment plan that meets your needs and goals or to decide whether to consolidate.
Consider applying for an income-driven repayment (IDR) plan. An IDR plan can make your payments more affordable, depending on your income and family size.
Once the payment suspension ends, you'll receive your billing statement or other notice at least 21 days before your payment is due.
Contact your loan servicer online or by phone to find out what your payment amount will be when payments restart. Your loan servicer is your source for official, up-to-date information about your loan.
For more information, please visit the Department of Education site: https://studentaid.gov/announcements-events/covid-19#repayment-prep
October 2021: Public Service Loan Forgiveness Limited Waiver Opportunity
On Oct. 6, 2021, the U.S. Department of Education (ED) announced a change to PSLF program rules for a limited time as a result of the COVID-19 national emergency. Throughout the pandemic, ED has provided a variety of benefits to borrowers.
Now, for a limited period of time, borrowers may receive credit for past payments made on loans that would otherwise not qualify for PSLF.
August 2021: ED Announces 'Final' Extension of Student Loan Payment Pause
By Owen Daugherty and Hugh T. Ferguson, NASFAA Staff Reporters

The Department of Education (ED) on August 6 announced it will extend the pause on student loan payment and interest accrual past its September expiration date.

Following weeks of pressure from top Democrats and advocacy organizations, the pause on payments will now be in place through Jan. 31, 2022.
ED in their announcement referred to the new end date of the benefit as the "final" extension of the payment pause, which has been in effect since the onset of the pandemic and was first implemented by the Trump administration.
"The payment pause has been a lifeline that allowed millions of Americans to focus on their families, health, and finances instead of student loans during the national emergency," said Education Secretary Miguel Cardona. "As our nation's economy continues to recover from a deep hole, this final extension will give students and borrowers the time they need to plan for restart and ensure a smooth pathway back to repayment." 
The extension means tens of millions of borrowers with federally-held student loans won't have made a payment on their student loans in two years when the latest extension comes to an end amid the coronavirus pandemic.

NASFAA President Justin Draeger applauded the extension in a statement, noting that many borrowers are still grappling with the fallout from the pandemic.

"With the effects of the pandemic ongoing, we welcome today's announcement on delaying student loan repayment. We urge the Department of Education to begin the work to implement a smooth, efficient on-ramp to repayment now, without further delay. Transitioning millions of borrowers back into repayment cannot be done by simply flipping a switch, and may even require a phased implementation," Draeger said.
He added that ED should utilize the additional extension to ensure borrowers have effective methods to repay their student loans.
"Delays cannot continue indefinitely and we urge the secretary of education to use his authority under this national emergency to streamline repayment processes to the fullest extent possible, with the most beneficial terms and conditions as possible. We look forward to exploring ongoing solutions with our federal partners in the weeks ahead," Draeger said.

The announcement from ED follows weeks of pressure from top Democrats and advocacy organizations. Sen. Patty Murray (D-Wash.) and Rep. Bobby Scott (D-Va.), chairs of the Senate and House Education Committees, sent a letter to President Joe Biden urging him to extend the payment pause, arguing that borrowers do not yet have the information and support they need to navigate resuming repayment.

Their letter says ED should use the extra time afforded to them through the extension to provide borrowers "with an effective re-entry for repayment." Much of the reasoning for extending the payment pause has been due to the significant undertaking the servicers are tasked with in communicating with the tens of millions of borrowers in a short period of time to notify them that payments are returning.
"Millions of Americans have been displaced or relocated during the pandemic, but the previous Administration chose not to ensure servicers maintained contact with the vast majority of Borrowers," the letter stated. "As a result, the Department and servicers likely have outdated contact information for many borrowers, which may prevent those borrowers from receiving the assistance they need, creating devastating consequences for those most in need of support."

While Murray and Scott called for an extension "until early 2022," Sen. Elizabeth Warren (D-Mass.) and Senate Majority Leader Chuck Schumer (D-N.Y.) sent a letter earlier this month to Biden urging him to extend the payment pause until March 2022.

"While the economic recovery is in progress, additional financial support is needed by students and families throughout the summer, when eviction and foreclosure moratoriums may lapse, and beyond September, when the extended unemployment benefits from the American Rescue Plan are set to expire," Warren and Schumer, along with other Democratic lawmakers, wrote.
Top Republicans have balked at the idea of another extension, arguing that further extending the relief is too costly for taxpayers and is "unnecessary."

Ultimately, the most recent extension will provide servicers more time to ensure a smooth transition to repayment in the coming months and could afford the Biden administration time to enact various student loan reforms it has identified as top priorities before borrowers begin making payments again. 
Publication Date: 8/6/2021
December 2020: Student Loan Debt Relief Measures Extended 1 Month Through January
By Owen Daugherty, NASFAA Staff Reporter
The Department of Education (ED) on Friday announced borrowers will receive a one-month extension of the federal student loan administrative forbearance period, the pause in interest accrual, and the suspension of collections activity.
The measures will run through Jan. 31, 2021, ED announced in a news release, providing borrowers with debt relief for an additional month as the forbearance period was set to expire at the end of the year.

"The coronavirus pandemic has presented challenges for many students and borrowers, and this temporary pause in payments will help those who have been impacted," said Education Secretary Betsy DeVos. "The added time also allows Congress to do its job and determine what measures it believes are necessary and appropriate. The Congress, not the Executive Branch, is in charge of student loan policy."
The month extension means borrowers will have relief in place through the remainder of the Trump administration. Had ED not extended the moratorium, relief for borrowers could have lapsed until President-elect Joe Biden entered the White House on January 20, creating a headache for borrowers, loan servicers, and the department in the interim.

Tens of millions of borrowers entering repayment all at the same time would be a difficult task for Federal Student Aid (FSA) and loan servicers, though it could still pose an issue next month if there is a small window between when the extension is set to expire and when Biden takes office.
Congressional leaders have called on the Trump administration to use its authority to issue an extension as negotiations over year-end spending bills and another federal relief package continue.

FSA is working with federal student loan servicers to notify borrowers of the extension, according to the release. Some borrowers had already received emails letting them know payments were due again in January.

As has been the case throughout the pandemic, non-payments will continue to count toward the number of payments required under an income-driven repayment plan, a loan rehabilitation agreement, or the Public Service Loan Forgiveness (PSLF) program.

Additionally, wage garnishments for borrowers in default will still be discontinued and any borrowers who have their wages garnished will receive refunds.
Publication Date: 12/4/2020
August 2020: ED Announces Trump's Executive Order Extending Borrower Relief Will Be Automatic
By Owen Daugherty, and Hugh T. Ferguson, NASFAA Staff Reporters
The Department of Education (ED) on Friday officially announced that student loan borrowers' federal loan payments, as a part of President Donald Trump's recent executive order, will be automatically paused through December 2020, interest free, with no opt-in request needed. 
Collections on defaulted loans will also remain halted until 2021, and non-payments will count toward Public Service Loan Forgiveness (PSLF) and income-driven repayment (IDR) progress, the department noted in a press release. Borrowers wishing to continue making payments during the suspension period will still be able to do so.
Federal Student Aid (FSA) is "working in partnership with its student loan servicers to notify borrowers of this extension of loan relief measures, and this outreach effort will continue through the fall and toward an eventual return to repayment," the announcement reads. "FSA's servicers are working to make these changes, and borrowers can expect to see this extension reflected in their accounts over the next several weeks."
The notice from ED addresses some of the questions regarding implementation of the executive order, clearing up confusion regarding PSLF and IDR progress, though the timing could create an obstacle as some borrowers were already receiving notices from their loan servicers saying  their payments are scheduled to resume at the end of September.
"Thanks to President Trump's leadership, students can continue their education and borrowers can enjoy relief from some of the financial stress many may be facing due to the coronavirus pandemic," said Education Secretary Betsy DeVos. "We want everyone to be focused on a safe return to full-time learning. The president and I will continue to support the success of all students."
Prior to the executive action taken by Trump or this latest announcement from ED, NASFAA had written to congressional leaders calling for student loan borrower protections enacted under the Coronavirus Aid, Relief, and Economic Security (CARES) Act, including the suspension of payments and interest accrual, to be extended before they expire at the end of September.
While few policy differences have been resolved in the latest round of coronavirus relief talks, Congress is rapidly approaching a jam-packed legislative session in September that will require the enactment of some sort of spending measure, which could contain additional aid to student loan borrowers and the higher education community. However, negotiations on additional aid remain fluid. 
Publication Date: 8/21/2020
Financial Services from External Sources: The OFA of AMS has learned free financial consultations are being offered at AMS, promoted by external companies.  We are posting this note to alert you that OFA does not endorse these services nor do we know about them in advance of their visit to our campus.  We caution students and residents to make informed decisions, shop around for advice and educate yourself before paying an advisor to help navigate the loan repayment process.
April 2018:  A $350 million fund has been established to help borrowers in Public Service Loan Forgiveness (PSLF) meet program requirements. Please read the NY Times article detailing this fund and how it may benefit you.  
Graduated and Working in Rhode Island?  Consider the 2018 Wavemaker Fellowship where you could receive an annual refundable tax credit against your RI income tax to defray the cost of student loan repayments.  Applications for 2018 available January 2018.  For more details, please visit their website.
Fannie Mae Introduces Innovative Solutions for Borrowers with Student Loan Debt:  Innovations Help Borrowers Pay Down Student Debt and Overcome Debt Related Obstacles When Buying a Home article is worth a read.
Exit Program: The following presentation, Loan Repayment; Building a Strategy, was offered to the MD'19 class on March 27. If you were unable to attend and/or need a refresher, please view at your leisure. 
Month-by-Month To-Do List
A helpful guide of deadlines, items to consider, relevant forms, and other information you'll need during the financial aid process.
Information for Residents
Recordings of How to Manage Your Student Loans During Residency (Full Length), Where to Start, The Effects of Postponing Payments, Choosing the Best Repayment Plan, Public Service Loan Forgiveness, and Consolidation, Refinancing and Taxes are available for your viewing.
The National Association of Financial Aid Administrators recently published the following article that may impact the servicing of your federal loans - ED Announces Move to Single Student Loan Servicer.  
Physicianloans has increased their maximum loan amount up to $750K with no money down for qualified homebuyers.
Timeline for Residents
Fall of Intern Year  
Select a repayment plan for your Direct/PLUS Loans while your loans are still in the grace period. Decide whether you would like to consolidate and combine your Perkins or LDS Loans with your Direct/PLUS Loans. Consolidation allows you to roll these into one new loan that you can repay using one of the income-driven repayment plans.
After November 15th, complete and submit a Brown Residency Deferment Application for your Brown Institutional Loans. Complete your portion of the form and forward it to your residency program coordinator. The coordinator will need to complete and certify/stamp the bottom portion of this form.  Then return to the Brown Loan Office for processing.  New paperwork must be submitted each year.  Have more questions?  Please visit the Brown Loan Office website.
The first payment is due in December on Direct/PLUS loans and must be sent to your federal loan servicer.  
Winter of Intern Year  
The first payment is due on January 1st for your Brown Institutional Loans and must be sent to the Loan Office, unless you have completed the residency deferment process above. Visit the Heartland ECSI website to review your loans and make payments online.
The first payment is due on April 1st for your Perkins Loans and must be sent to the Loan Office, unless you have completed the forbearance process above.  Visit the Heartland ECSI website to review your loans and make payments online.  Have you considered consolidating your Perkins loans into at least one of your Direct loans?  This would reclassify your Perkins loans as federal loans and an IDR and possible PSLF would then be available.
Ongoing During Residency 
When you've chosen an income driven repayment plan (IBR, PAYE, or REPAYE) for your federal loans, remember that you will need to verify your income each year, as early as August and September.  So, be careful to pay attention to emails you receive from your servicer. 
Consider completing the Public Service Loan Forgiveness (PSLF) Certification form with your employer annually to keep track of months earned.  See form below-make sure all section are completed prior to submitting.   
You must plan on reapplying if you wish to extend a deferment or forbearance for your Brown loans. The deferments and forbearances are typically granted for 6 to 12 months at a time. (Ex: The Medical Loan offers 36 months of residency deferment. If your initial residency deferment is granted for 12 months, you will need to complete the entire deferment process again each November.)
Helpful Links